Young people
Busleyden Court through the eyes and stories of young people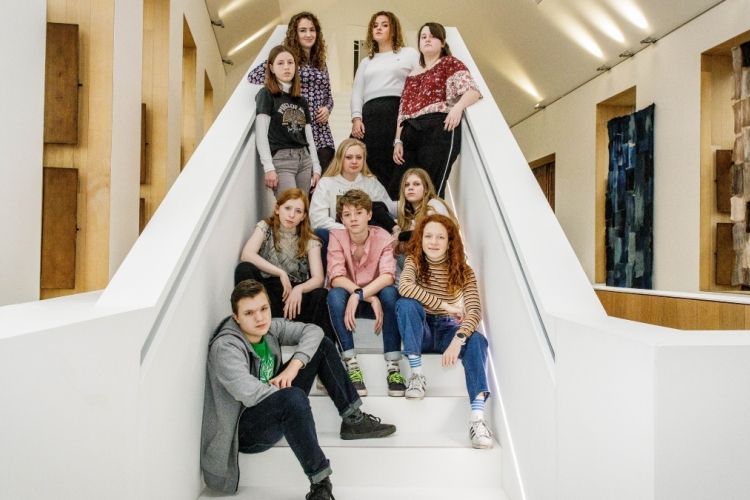 Under the motto 'Young people write for young people', Museum Hof van Busleyden in Mechelen launches a new audio tour at ErfgoedApp: students of the third secondary school grade take you along several works in the museum. They chose the works themselves and wrote two original stories for each. These tell the true story behind a work. Or is it a credible lie?
Why Ear Dilemmas?
Although Museum Hof van Busleyden had been offering an educational package to primary schools for some time, it was still looking for a package for secondary education. Oordilemmas was therefore initially aimed at school groups. The reactions were so positive that the museum decided to make Oordilemma 's also available to the general public as an audio tour. This new ErfgoedApp tour is not the museum's first: together with a few self-willed narrators, the museum has already created a much appreciated museum podcast series.
Make Days
In the autumn of 2019, four classes from the third grade of secondary education in Mechelen from Ursulinen Mechelen and Busleyden Atheneum Campus Caputsteen set to work in the museum under the guidance of De Veerman. The call for the project was launched via the education cell of the city of Mechelen. From the responses, a number of very different fields of study were selected.
During several 'making days', they worked more and more specifically towards the end result. On the first day, the students explored the museum collection as a group. After this first exploration, the students, meanwhile divided into groups of four, chose an object in the museum for themselves. Additional background information was provided by the museum guides. With this baggage in their pockets, it was time to give free rein to their creativity. The assignment? Devise a story that tells the true context, but also includes a believable lie.
In a next step, twelve young people were selected from the group who wanted to participate intensively in the further process. They received voice coaching and recorded the stories themselves.
Writing for young people
The project was led by the students, the museum staff and De Veerman. Only the audio fragments were recorded by an external partner and the graphic work was also done externally.
The finished audio tour ultimately tells the stories of sixteen objects. Want a taste? Listen to this fragment about the mysterious Coconut Cup. Can you pick out the true story?