Passersby know it as an imposing building. Students know it as a place to study. But what else does Leuven University Library have to offer? Use the ErfgoedApp to discover the various halls and rooms and learn more about its history and hidden treasures.
An eventful history
The University Library we know today was built in the 1920s to the design of Whitney Warren. It replaced the original library, which was located on Naamsestraat and fell victim to the ravages of war in 1914. But the new library was not spared either and was damaged in 1940, at the beginning of World War II. Once again, many books were lost. After the Leuven University split in 1968, the University Library saw part of its collection leave for Louvain-la-Neuve, to the French-language university UCL.
The tour guides you step by step through that eventful history. You start outside, in front of the building. Then you go through the reception area, the first and second floors. On the way up you pass the bust of Herbert Hoover, chairman of the Commission for Relief in Belgium. Thanks to his efforts, the construction of a new library building on what is now the Place Mgr. Ladeuze, and the reconstitution of a book collection, could begin in 1921.
In the hall on the second floor, you bump into several works of art, including those by Harry Elstrøm, Albert Ciamberlani and Jacques Moeschal. These works of art also form a puzzle piece in the library's history. They depict figures or events that played important roles in it.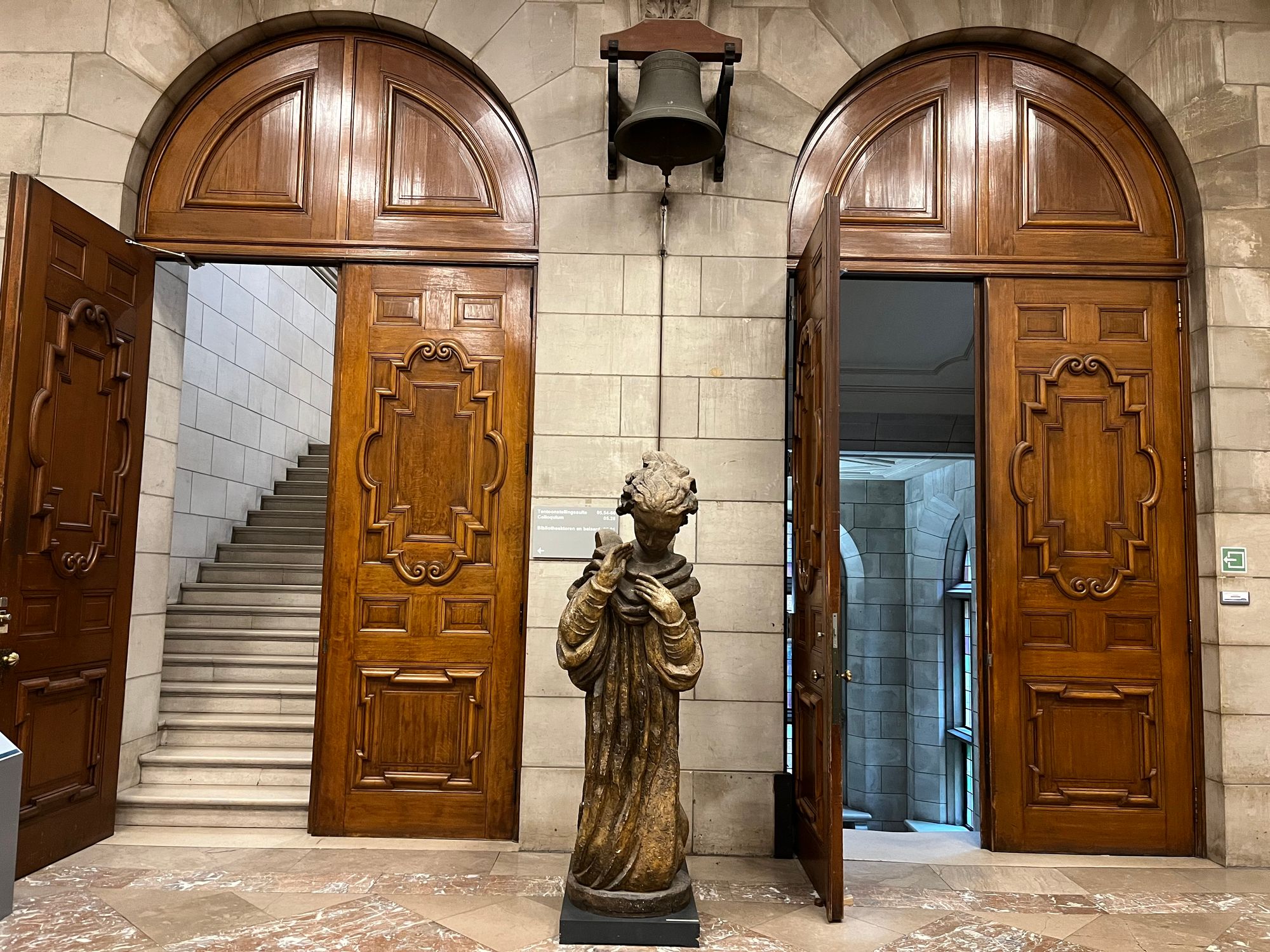 After the hall, you enter the Growing Reading Room, the library's gem. The hall and side rooms were redesigned by architect Henry Lacoste after the 1940 fire. The reading room contains as many as 44,000 books and is still a popular place for students to study quietly. Tip: Plan your visit on the weekend to fully explore the Great Reading Room. During the week you can only visit it on a limited basis so as not to disturb the studying library users.
If you go up one more floor, you will reach the entrance to the tower. This is where the tour stops. In the tower, you will learn more about the history of the University Library during and between the two world wars via a digital exhibition. Be sure to climb the tower for a breathtaking view of Leuven.
Practical
Want to learn more about the fascinating history of Leuven University Library? Download the ErfgoedApp in the App Store or Google Play and download the tour 'Tour of the University Library'. Buy tickets online or at the ticket counter in the University Library.