The MOT in Grimbergen is launching a very original exhibition. MOT & GO is the do-it-yourself store for propulsion and gearing. Not a real store of course, but a new, interactive exhibition where you can find out more about natural propulsion and mechanical transmission. It is no coincidence that MOT & GO is located in the Tommenmolen, a grain water mill on the Maalbeek.
Scan and shop
Using a smartphone or tablet with ErfgoedApp , you can scan assignments and solutions. With paint cans (which you can also scan with the app), you put together a timeline. You can shop in the Inclined Plane, Lever and Wheel and Axle sections, with store shelves where brand-new tools and old collection pieces complement each other nicely. An unseen arrangement, allowing you to experience engineering in a whole new way.
By using an app instead of a guide, larger groups can easily spread out in the exhibition and complete assignments in small groups or individually. Thanks to the app, the exhibition is available in Dutch, English and French. Moreover, in the exhibition you will not see video screens or long texts, because all the films and texts come to life with the help of the ErfgoedApp. A successful combination!
For the realization of this innovative concept, the MOT received financial support from the Province of Flemish Brabant. Design, content and realization were carried out entirely by MOT staff. The concept for the DIY store came from design agency Exponanza. The ErfgoedApp was included in the development of the exhibition concept from the very beginning. Graphically, too, everything was worked out to perfection in the app.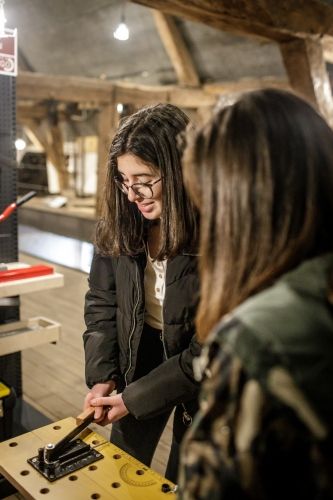 Practical
Open: from April through September on weekends and holidays from 2 to 6 p.m.
Visitors best prepare for their visit by downloading the ErfgoedApp download. MOT tablets will be provided for those who wish.